Rising Rents Are No Laughing Matter
For some, home ownership can seem like an impossible dream to achieve. In reality, buying a home is a lot easier than you may think especially when you have a plan! The predicted trends in the 2017 real estate market make this year a great time to buy a home. A hot market, flexible loan programs, and down payment assistance programs combine to make now the time to make that dream a reality!
No doubt about it, buying your first home can be an overwhelming task. We have compiled a few tips to make the journey to home ownership less daunting.
---
Get Pre-Approved: There's a lot of houses out there. Unfortunately, the bank isn't going to give you a mortgage loan for all of them. Narrow your search by getting pre-approved for a mortgage. This is vital and will give you a more clear idea of your price range as well as how much your monthly payment will be. When you do find your dream home, your offer will look much more appealing to the seller if it comes with a pre-approval letter. In addition, there may be many programs to help with your down payment if needed. Be sure to take advantage of these down payment assistance programs. Some are based on your unique situation.
Find a REALTOR®: Don't go on this journey alone and not all licensed agents are the same! A REALTOR® has agreed to follow a Code of Ethics in their dealings with buyers and sellers. A REALTOR® has access to all the homes on the market through a database called the multiple listing services. They can help you find the perfect home, negotiate on your behalf, and guide you through the process until closing. Want to know the best part? As a buyer, the fee for working with a REALTOR® is already negotiated and doesn't cost you anything out of pocket to work with a REALTOR®.
Narrow Your Search: Think about the characteristics of a home that are really important for you. You might want to stay within a particular school district or within a certain distance from your office. You may want a home with a yard, or condo living with minimal upkeep might be more your style. Whatever you picture in your dream home, write it down and share with your agent. This will help them narrow the search and save lots of time. Besides, looking at all the homes in the Atlanta area would be an impossible task!
Keep an Open Mind: Very rarely will you walk into a house and love everything about it. Keep in mind that cosmetic aspects of a home (like paint or fixture color) are a pretty easy fix and can usually be done at a reasonable price. Don't let a can of paint keep you from a home that is otherwise perfect for you.
Give Yourself Some Credit: Your credit history and credit score are very important when applying for a home loan. A credit history of on-time payments shows the bank that you are responsible as it relates to managing your money. Not using all the credit available to you (i.e. maxing out all your credit cards) shows the bank that you are responsible with the credit that is extended to you. Both of these help the bank gauge how you will treat your mortgage loan. Take a minute to download a copy of your credit report at

FreeCreditReport.com or Credit Karma to make sure that all the information is accurate. Cleaning up any accounts in collections and paying off some bills will help in the loan application process. If there are some discrepancies be sure to discuss this with your mortgage loan officer before taking any actions.
Take advantage free information: Buying a home for the first time can come with lots of uncertainties, we are professionals and we're here to help! Join us for a free and informative seminar for first-time home-buyers on May 13, 2017 at 10:00 a.m.

at the Keller Williams office located at1957 Lakeside Parkway, Suite 520 Tucker, Georgia 30084. The True Visions Team along with, mortgage lending professionals and a real estate attorney will be on hand to answer your home buying questions. We want to get you on the path to ownership providing by letting you in on their home buying secrets.

RSVP here to save your spot.
---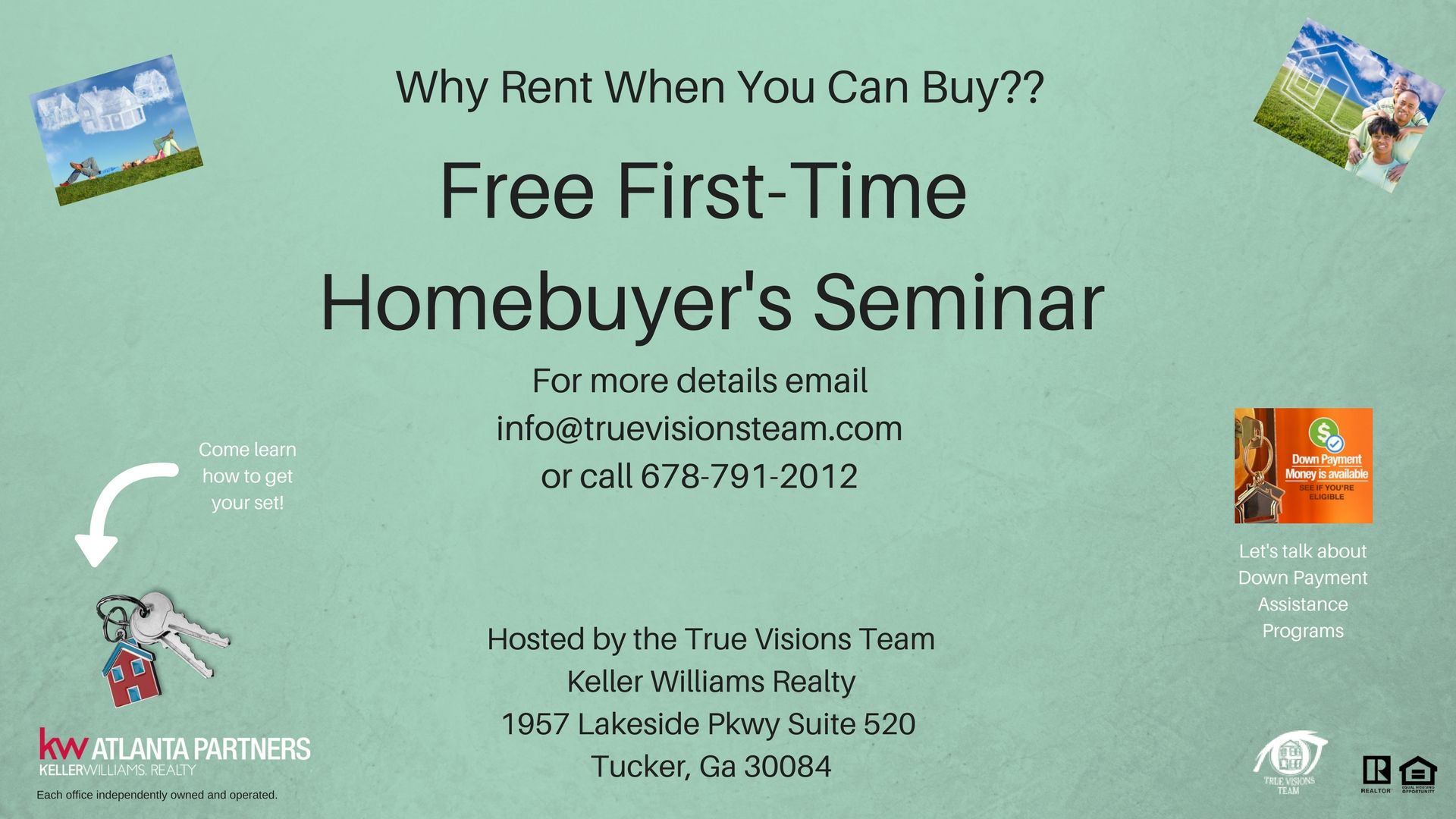 ---
Stop Renting and Make 2017 the Year You Buy!