Clever Spring Cleaning Hacks!




Spring🌷is around the corner, YAY! That also means it's time to start thinking 💭 about de-cluttering and giving your 🏡 a fresh clean. We've rounded up the best spring cleaning tips and tricks to help you clean your home in a simpler way! These cleaning hacks will help you get your home sparkling ✨ clean in no time at all!


Lemons 🍋 Are Your Best Friend!
When life gives you lemons, clean your garbage disposal or shine your stainless steel sinks! Cut a lemon into slices and run it through the garbage disposal. Wallah! To clean stainless steel, simply cut a lemon in half and rub over the area to clean and shine (add a little baking soda or coarse salt to the cut face of the lemon for extra scrubbing power).
Photo Courtesy Of: This Green Home
Clean Your Sponge
Sponges pick up a whole lot of bacteria. Don't throw them out, get the most out of your sponge! Cleaning your sponge is easier than you think: pop it in the microwave for 30 seconds to remove any bacteria! You can also put your sponge in the dishwasher to get it nice and clean again.
Make Your Glass Shower Doors Sparkle ✨
Heat 1 cup of vinegar in the microwave for one minute. Carefully pour into a spray bottle along with 1/2 cup of blue dishwashing liquid. Spray glass shower doors, and easily wipe off soap scum and build up. Make things even easier by filling a scrub brush wand with the liquid, and storing it right in the shower. Give the doors a quick scrub next time you're showering to keep it clean all year long!
Photo Courtesy Of: The Craft Patch
Remove Pet Hair With Gloves 🧤
Pet hair sticks like magic to cleaning gloves, so skip the lint rollers and vacuums, and simply rub your gloved hands over surfaces where pet hair lingers. Easy peasy!
Dust Baseboards With Dryer Sheets
Use a dryer sheet to dust baseboards, and the anti-static properties will help the baseboards repel dirt and dust for months to come!
Photo Courtesy Of: Crafts On Fire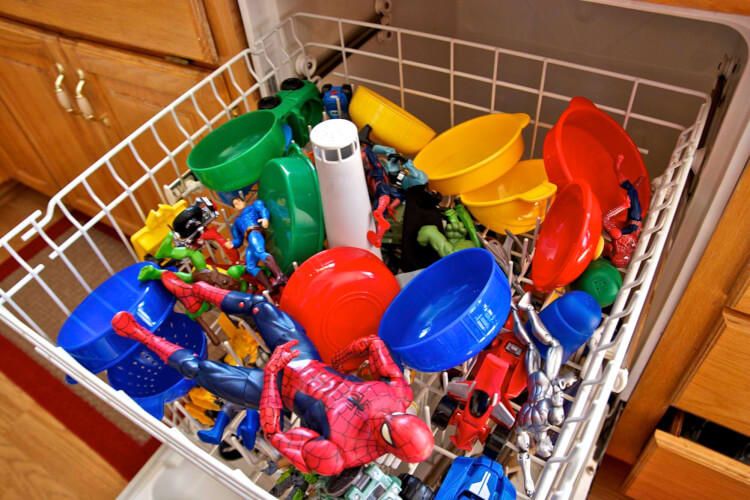 Clean Toys In The Dishwasher Or Washer Machine
Children's toys often become dirty and germy, but did you know that you can sanitize them in the dishwasher (avoid thin plastic objects and anything that may melt). You can also use the dishwasher to clean makeup brushes, toothbrushes, soap dishes, pet food dishes, vacuum attachments, window screens, floor vents and more! Soft toys and stuffed animals can be washed in mesh garment bags in the washing machine.
Photo Courtesy Of: Choice Home Warranty
Use Coffee ☕️ Filters to Dust Electronic Screens
Use a coffee filter to clean computer and television screens to cut down on static and leave your screens dust and lint-free.
Photo Courtesy Of: The Handy Man